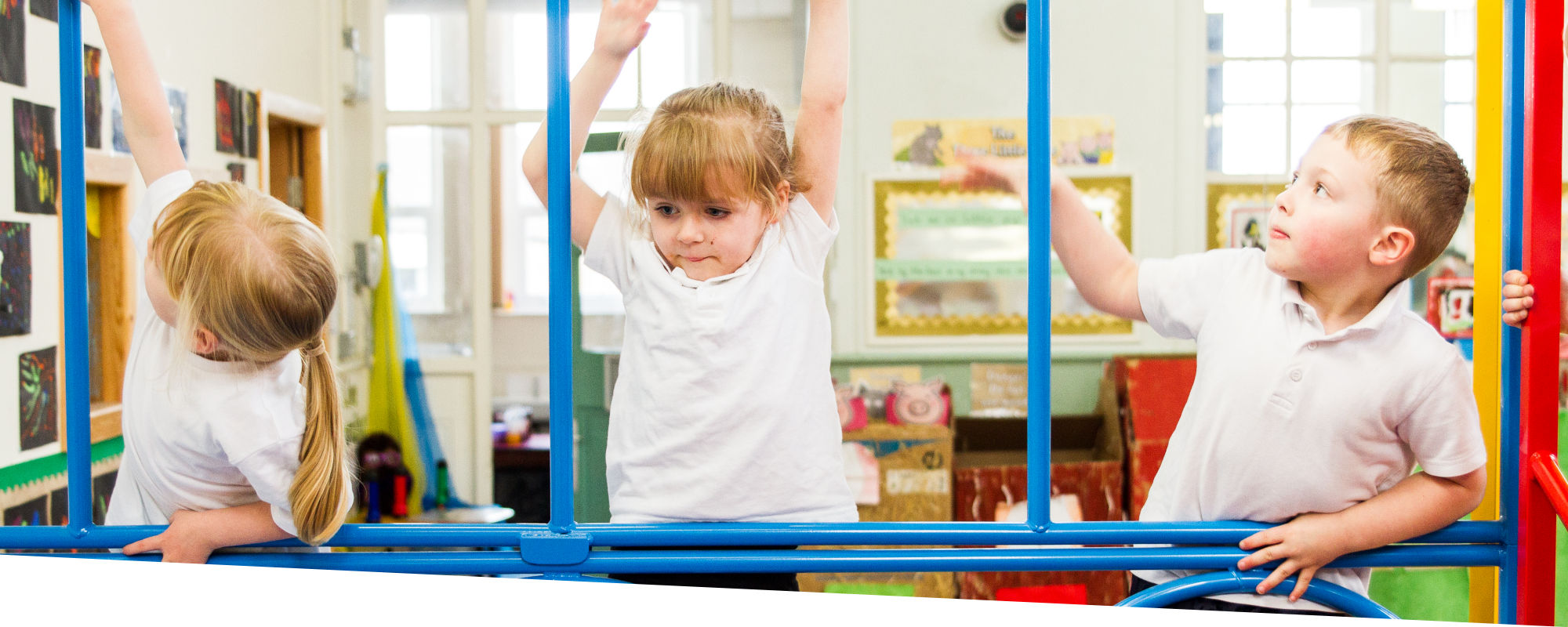 Timetable
Lesson 1
Lesson 2
Lesson 3
Lesson 4
Monday
Year 2
Junior Hall
Year 1
Junior Hall
Year 3
Junior Hall/MUGA
Year 4
Junior Hall/MUGA
Tuesday
Year 6
Junior Hall/MUGA
Year 5
Swimming
Nursery
Infant Hall
Wednesday
Reception
Junior Hall
Nursery
Infant Hall
Year 2
Junior Hall
Year 1
Junior Hall
Thursday
Year 4
Junior Hall/MUGA
Reception
Junior Hall
Year 5
Junior Hall/MUGA
Friday
Celebration Assembly
Junior Hall
Year 3
Junior Hall/MUGA
Year 6
Junior Hall/MUGA
PE news
What an amazing afternoon we've had! The children are all tired out from their hard work throughout
This Wednesday (7th February 2018), as mentioned in a previous newsletter and a post on our facebook
Reception Class did some amazing climbing in PE today. We got the climbing frame out to see
more PE news
all school news
Primary PE and Sport Funding
Schools are allocated a sum of money, called Primary PE and Sport Funding, to support all children and improve the quantity, quality and breadth of PE and sport provision.
The allocation is calculated according to the intake of the school, and the school must decide how best to use the money to improve the breath and quality of PE and sport provision, including increased participation in PE and sport so that all pupils develop healthy lifestyles and reach the performance levels they are capable of.
Our Primary PE and Sport Funding for 2015/16 was £8,814
And our funding for 2016/2017 is £8,525
How the money is used
At Gisburn Road Community Primary School we have decided to use this money to:-
Use specialist teachers or qualified coaches and work alongside teachers in lessons to increase their subject knowledge and confidence in PE via Dance and Games.
Procure quality-assured professional training for staff to raise their confidence and competence in teaching PE and sport.
Buy into the "Pendle Sports Partnership".
Pay for pool hire and instruction to provide lessons for children in KS2 who cannot swim 25 metres.
Buy into 'FUNDA' to provide lunchtime activities and games for healthy lifestyles and healthy choices.
Targets for 2016/17
Introduce playground games at breaks and lunchtimes through FUNDA and Year 6 leaders who have been trained to promote a healthy lifestyle and make exercise fun and enjoyable.

Ensure that a minimum of 55% of pupils access extra-curricular activities. This is a 25% increase on 2015-2016 target.

To improve the quality of teaching and learning in PE
Provide opportunities to ensure pupils swim at least 25m by the end of KS2.
School to participate in events organised through the School Sports Partnership encouraging sporting excellence.
School to participate in events and competitions organised through the local schools in Barnoldswick cluster again promoting sporting excellence.
Provide a wide range of extra-curricular activities. E.g. Yr 5/6 Football, Multi-skills, Yr 3/4 Football, Rounders, Hockey, High 5.
Provide regular assemblies to promote physical well-being and healthy lifestyles.
Provide BIKEABILITY training for Y6 pupils.
Impact measures:
An increase in the number of pupils taking part in extra-curricular activities. (A minimum of 55%)
An increase of successes within competitive school sports through local competitions and through the Pendle Partnership.
Lessons will allow all learners to achieve and make good rates of progress in PE with all lessons being graded at least good and better.
The growth in the range of traditional and alternative sporting activities.
The improvement in partnership work on physical education with other schools and other local partners.
Links with other subjects that contribute to pupils' overall achievement and their greater social, spiritual, moral and cultural skills.
The greater awareness amongst pupils about the dangers of obesity, smoking and other such activities that undermine pupils' health.