There is no stigma attached to getting head lice. Anyone can get them, whether you're dark haired or fair, and wash your hair twice a day or once a week! The best way of controlling the spread of head lice is to watch regularly for signs and to treat those who are infected. We would recommend checking your child's hair at least once a week.
Head lice and nits are very common in young children and their families. They do not have anything to do with dirty hair and are picked up by head-to-head contact.
Head lice can make your head feel:
itchy
like something is moving in your hair
The only way to be sure someone has head lice is by finding live lice.
You can do this by combing their hair with a special fine-toothed comb (detection comb). You can buy these online or at pharmacies.
PLEASE DO NOT USE HEAD LICE PREPARATIONS AS A PREVENTATIVE MEASURE AS THIS HELPS LICE TO BECOME IMMUNE TO THE CHEMICALS USED.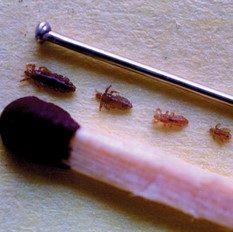 You can treat head lice without seeing a GP.
Treat head lice as soon as you spot them.
You should check everyone in the house and start treating anyone who has head lice on the same day.
There's no need to keep your child off school if they have head lice.
Children are allowed to return to school once the infestation has been treated.
A good preventative measure is the regular use of a fine toothed comb which breaks the legs of any visiting lice and prevents them from laying eggs!  It can also clear out unseen eggs (nits).
Please be vigilant as nits are usually not visible to the naked eye until they are a month old.
All Shoulder length  hair  MUST BE TIED UP, BACK OR PLAITED at all times. Lice cannot jump but they can walk from one head of hair to another.
Please watch the Bug Buster Video and check out the NHS website for further help and information.
Wet combing is the gold standard:
A bug buster kit is available on prescription (free for children) from GP/practice nurse.
There's no need for children to stay off school or to wash laundry on a hot wash.